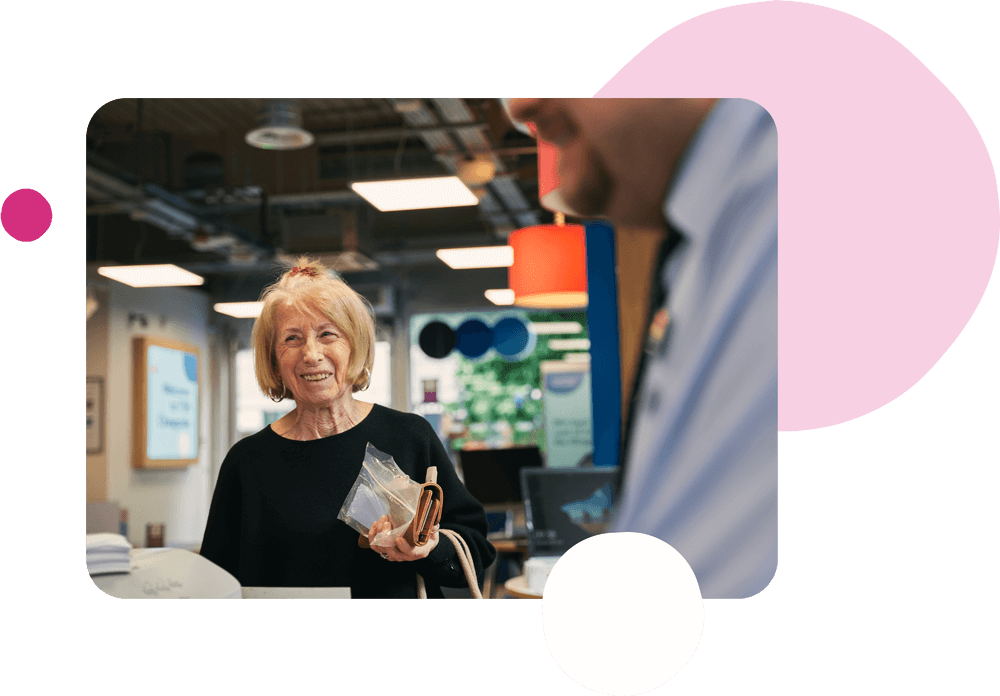 People
We're focused on delivering social good by supporting financial and social inclusion and encouraging fair business practice. The actions we've committed to under our Do What Matters 2025 plan focus on the issues where we're best placed to make a difference, and which matter most to our customers, colleagues, suppliers, and communities.
We've already taken a leading position on tackling issues affecting many of those we serve. But we know there's more work to be done.
Protecting customers from the impacts of fraud
Doing what matters for our customers is at the heart of everything we do. We're committed to helping our customers feel more confident with their money and protecting them in times of financial difficulty.

The scale of fraud in the UK continues to rise, with UK victims losing £1.3 billion in 2021. This emphasises the importance of customers receiving support through refunds from their bank, should they ever fall victim, giving them much needed piece of mind.

We fully understand the life-changing impact fraud can have on people's lives. We're the only bank in the UK to offer a full refund to all our customers who are victims of fraud, whether they're small businesses or individuals, through the TSB Fraud Refund Guarantee. We're proud to say that we refunded 98% of claims in 2021, compared to the banking sector average of 47%.
"When I realised I had been scammed, my self confidence was completely destroyed. I was extremely fortunate that my bank, TSB, turned this awful experience into a positive one."
Providing Safe Spaces for victims of domestic abuse
One in four women and one in six men will experience domestic abuse in their lifetimes. We're proud to partner with charity Hestia's UK Says No More campaign, to be the first bank to provide a Safe Space to victims of domestic abuse in every one of our branches, regardless of whether they bank with us. It's one of the ways we're working locally with communities to help them thrive, with more than 1,500 colleagues trained and ready to help victims get the support they need.

TSB becomes first bank to offer Safe Spaces for victims of domestic abuse.
"Businesses have a unique role in breaking the silence around domestic abuse. By providing a Safe Space in their banks, TSB will help us reach many more victims of domestic abuse, ensuring they get the specialist help and advice they need. We hope many more businesses will follow their lead and support this scheme."
Paying our suppliers promptly
Doing what matters for our suppliers means treating them fairly and consistently to help them survive and thrive.

Late payments can have a material impact on suppliers. The UK's small businesses are owed £50 billion in late payment which is why, in 2020, we became a signatory of the Prompt Payment Code, which requires signatories to pay 95% of invoices within a maximum of 60 days. At TSB, we've gone a step further and voluntarily committed to pay our small suppliers in less than ten days. We even exceeded our own ambitious targets in 2021, paying 97% of small and medium suppliers within seven days.

"In the past, the business has been adversely affected by late payments. The knock-on effect is that we have to delay payments to our own suppliers. If we encounter customers who consistently delay payments, we also attempt to cover the financial burden by increasing our prices. Ultimately late payments subdue wages, staff benefits and the ability to grow the business."
Building an inclusive workforce
We want TSB to be a truly inclusive workplace – somewhere our colleagues feel they belong and can bring their whole selves to work.

In 2022, we introduced our new parental policy giving all parents, regardless of gender, equal leave with their child. This makes us one of the first major employers in financial services to offer inclusive leave.
"It's very important today to have equal opportunities for parental leave. Looking after a baby is a full-time job, so it allows couples to plan properly for having, or adopting, children and freeing up so many new possibilities for primary and co-parents. It's reassuring to see TSB align their HR policies to recognise equal opportunities and better inclusion."