06 July 2015
Tap. Click. Call. Visit. How do you do your banking?
As industry figures 1reveal customers are increasingly using their mobiles to do their banking, new research from TSB reveals more than three quarters (77%) of Brits have said that it is important that their bank offers both online and branch banking services.
Research conducted by TSB found that more than two thirds (68%) of Brits said that quick, simple and easy online and internet banking was most important to them when choosing a bank. This was closely followed by being able to speak to real people in a branch (64%) and being able to speak with real people on the phone (41%).
The research also found that the majority of people (71%) use online banking to manage their everyday bank accounts, while customers are more likely to visit a branch when making important financial decisions (48%).
TSB recognises customers want and need both a great mobile banking service on demand as well as a physical presence on high streets across Britain. This is why TSB is dedicated to its 'Bricks and Clicks' strategy to offer customers the best of both worlds. Since re-entering the market in September 2013, TSB has welcomed customers to our Internet Banking services more than 290 million times³.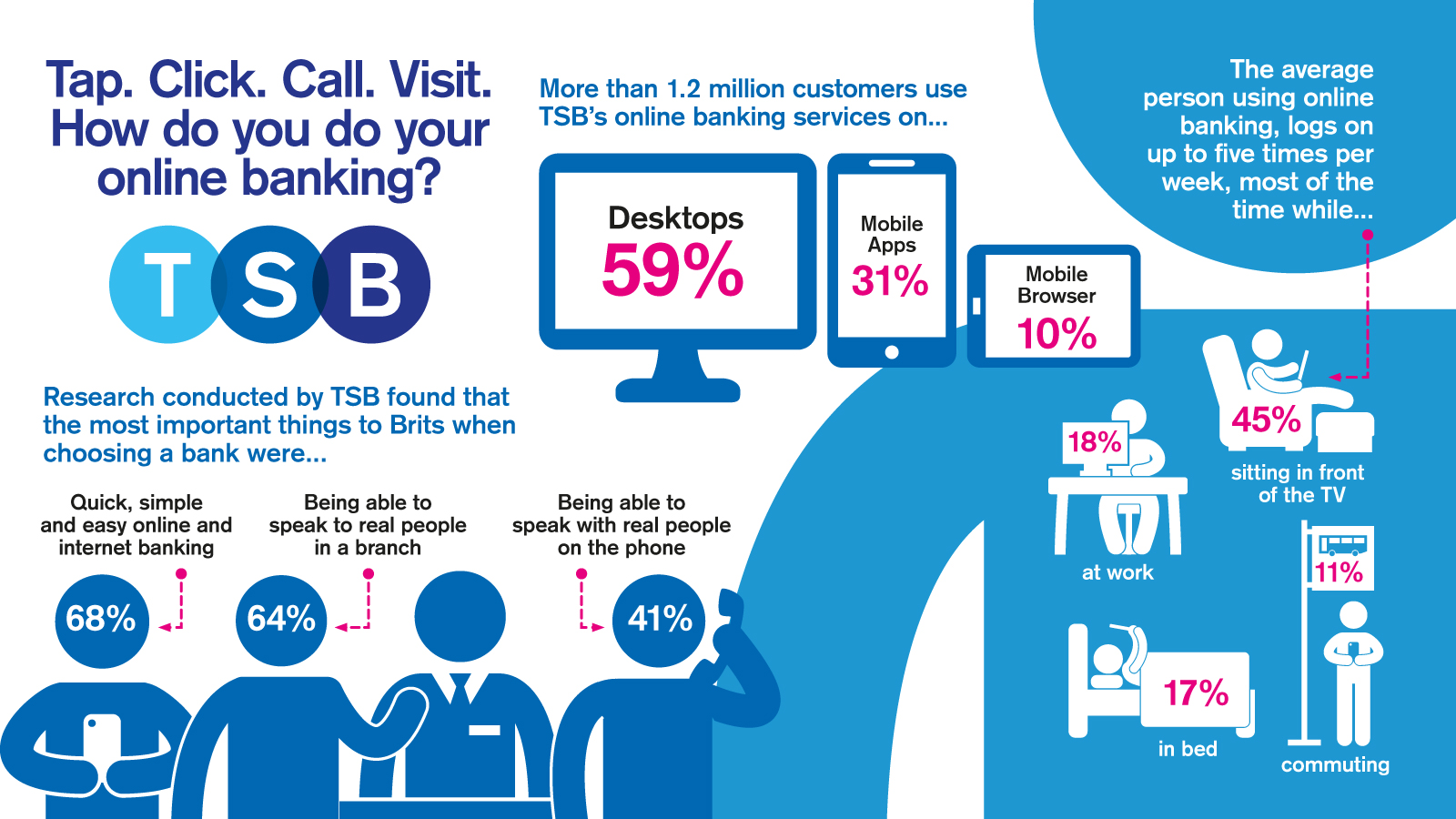 Andy Piggott, TSB's Head of Current Accounts, says: "Customers are able to manage their TSB accounts online through their mobile, tablet and desktop as well as in branch and over the phone.
"In particular, TSB customers with a Classic Plus account can get even more from their account by ditching paper statements and choosing to view them and other correspondence from the Bank online. By doing this, customers can earn five per cent interest on balances up to £2000 1and only need to deposit £500 a month. And, because TSB knows customers want a choice about how they look after their money customers can also manage their account online or in branch.
"People have told us they want access to their money 24/7, which is why it is important that we give our customers the right tools to be able to do this without the fuss."
Local banking... you can do it anywhere...even bed!
The average person using online banking, logs on up to five times a week, most of the time while sitting in front of the TV (45%), followed by at work (18%), in bed (17%) and whilst commuting (11%).
TSB internet banking facts
More than 1.2 million customers use TSB's online banking services every month on desktops (59%), mobile apps (31%) and mobile browser (10%).
More than 1.1 million customers have downloaded the TSB app since September 2013.
On average, TSB mobile app users access their account through the app 15 times a month.
On average, TSB customers access their bank account seven times a month via the desktop site.
TSB believes that banking should be simple and that customers should be able to access and manage their accounts wherever, whenever and however they choose including in branch, online and over the phone.
Notes to editors
TSB research based on a One Poll survey of a representative UK sample of 2,000 UK adults, polled between 5th - 8th June 2015.
1The Way We Bank Now - World of Change BBA Report Summer 2015
2TSB Classic Plus account gives 5% AER/4.89% gross variable interest on balances up to £2,000 (no interest on balances more than £2,000).  Interest is paid monthly. You must pay in at least £500 a month, register for Internet Banking and opt for both paperless bank statements and paperless correspondence. You must be 18 or over and a UK resident to apply.
3Customers have logged into TSB Internet Banking on Desktop, Mobile or App 290 Million times since September 2013. All figures accurate as at 5thMay at 24:00 hours.
TSB was created to bring more competition to British banking - to be a real challenger to the big banks and to deliver the kind of banking the people of Britain want. TSB only serves local customers and local businesses, to help fuel local economies, because communities thriving across Britain is a good thing for all of us.
We have a simple, straightforward and transparent banking model and make clear on our website how we operate and make money. We offer the products and services people tell us they want, with none of the funny stuff people normally associate with traditional banks.
Our 4.6 million customers, award winning mobile and digital banking, nationwide network of branches and 8,500 Partners mean we are big enough to make a difference, but small enough to be an agile challenger to the entire market.
For further information about TSB Bank plc, please visit our website www.tsb.co.uk.