09 August 2016
TSB CEO's 'Beat the boss' London Triathlon challenge raises nearly £60,000 for charity
TSB Partners raise nearly £60,000 for 46 charities at the London Triathlon.
#BeatTheBoss charity challenge saw 98 Partners and 23 TSB Local Charity Partners attempt to beat the boss, Paul Pester, TSB CEO.
Paul sponsored every triathlete taking part with TSB £50, plus another £50 if they beat his time.
On Saturday 6 August 2016, 98 TSB Partners and 23 TSB Local Charity Partners from across Britain took part in the London Triathlon , raising nearly £60,000 for 46 great causes across Britain. The TSB triathletes competed against the Bank's CEO, Paul Pester, in his annual #BeatTheBoss challenge.
#BeatTheBoss
TSB's Partners and Local Charity Partners were encouraged to take part in the event by Paul, who personally committed to sponsor those who participated with TSB £50 to go to a charity of their choice, plus an extra £50 if they managed to beat his time.
Paul completed the sprint distance triathlon in 1 hour 20 minutes 16 seconds, slightly slower than his 2015 time of 1 hour 18 minutes 50 seconds. TSB triathlete, Adam Masters, managed to #BeatTheBoss with a time of 1 hour 17 minutes 18 seconds, while another, Matthew Ellam, completed the Olympic distance triathlon in 2 hours 29 minutes 39 seconds, which is ahead of Paul's expected time of 2 hours 40 minutes. A further 13 TSB triathletes taking part in the relay event managed to go faster than Paul in one of the three disciplines (swim, bike, run), resulting in Paul donating an additional £750 to charity in total.
This means TSB Partners have now raised nearly £60,000 for their chosen charities as a result of the triathlon. To find out up-to-date information about the charities supported and how much has been raised, visit the TSB team's JustGiving page 1.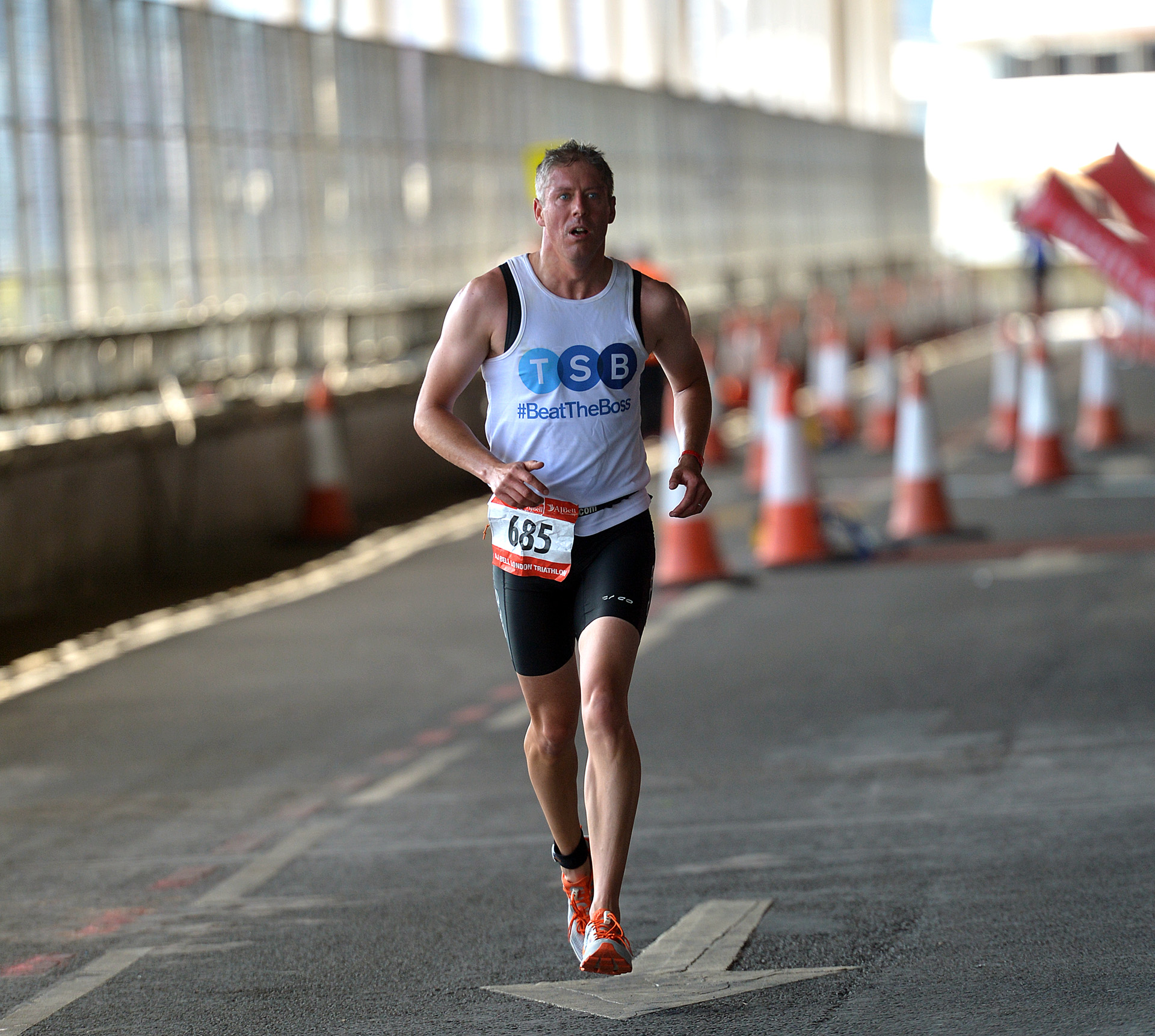 Pride of Sport
The event comes just days before nominations open for the Pride of Sport awards, held in partnership with TSB. The awards aim to celebrate the unsung heroes of sport and this year, people can make their nominations for the awards in their local TSB branch from 10 August 2016.
Paul Pester, CEO of TSB Bank, said:"Saturday's London Triathlon was the culmination of many months of training for TSB Partners and our Local Charity Partners from right across the UK. The atmosphere was fantastic and it was great to see so many friends and family out supporting our TSB triathletes who put in a brilliant performance- especially those who #BeatTheBoss!
"The money is still being counted, but once I've paid my sponsorship to our TSB triathletes we'll have raised nearly £60,000 for 46 great causes right across Britain. This is a demonstration of ordinary people doing something extraordinary as a force of good in their local communities - and it's a great example of what TSB is setting out to achieve through our new partnership with Pride of Sport and Pride of Britain."
Breast Cancer Care
Partners were free to support a charity of their choice, and Paul supported Breast Cancer Care, raising over £17,000 - exceeding his personal target of £10,000.
Paul Pester continued:"As well as sponsoring all TSB Partners taking part, I also fundraised for Breast Cancer Care, a charity that is very close to my heart, to fuel the fantastic work they do in supporting people with breast cancer and their families."
Breast Cancer Care is the only specialist breast cancer support charity working throughout the UK, supporting millions of people and their families and campaigning for better support and care.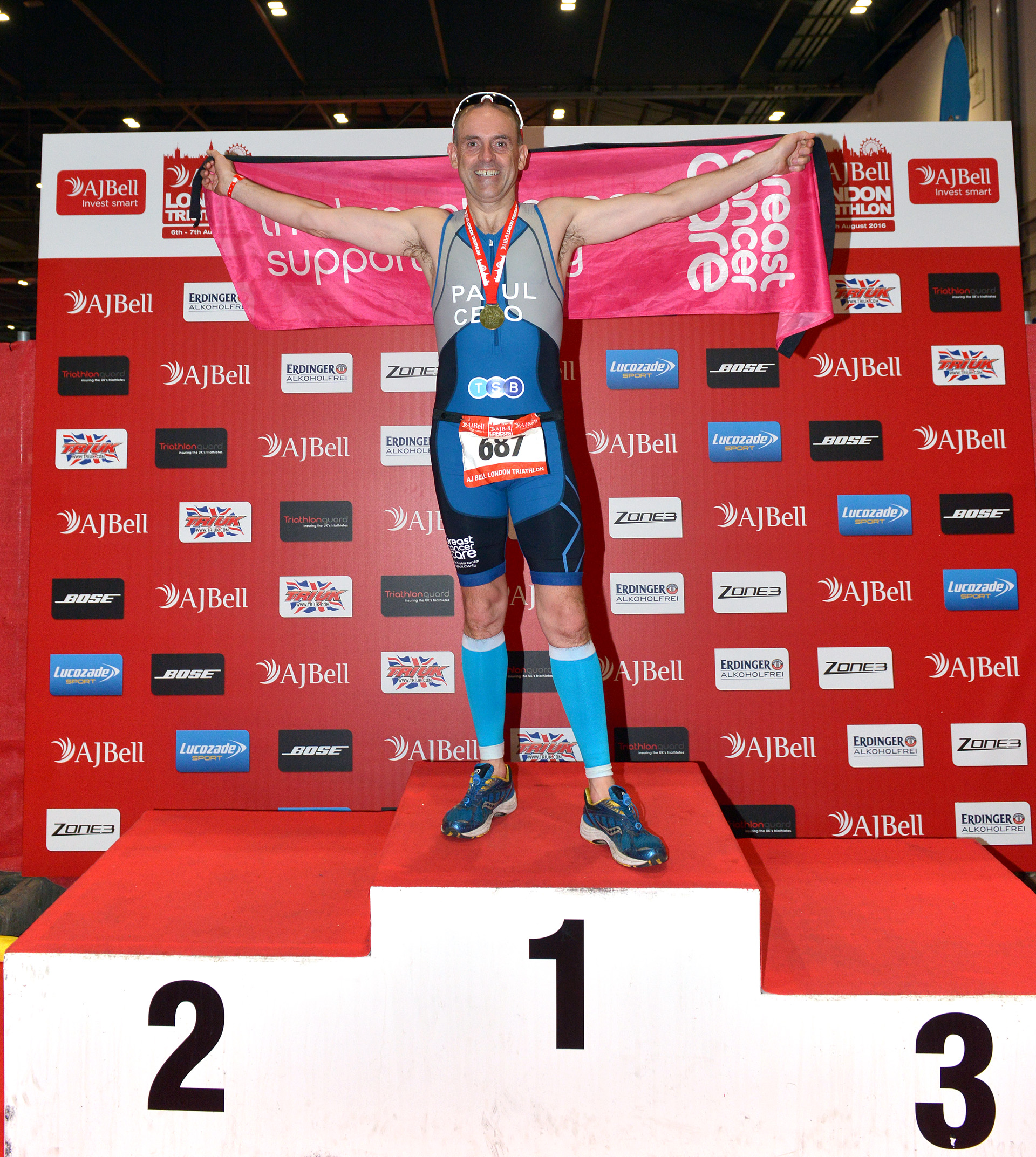 About TSB's Local Charity Partnership Programme
As well as encouraging staff to take part in fundraising events like the London Triathlon, TSB also gives its branches and offices the freedom to pick their own Local Charity Partners based on the needs of their local community.
With the support of TSB customers, each TSB branch and office site has fully got behind the programme following its launch at the start of 2015. Nearly 500 charities have benefited from fundraising support from their local TSB, and the Bank has donated over £1 million through the programme.
In addition to fundraising activity, TSB also encourages staff to spend a day when they would normally be working out in their community supporting a local good cause.
Media Contacts
Follow us on twitter: @TSBNews
Notes to editors
1Offline fundraising amount not included in the JustGiving total.
About TSB
TSB was built to bring more competition to British banking - to be a real challenger to the big banks and to deliver the kind of banking the people of Britain want. TSB only serves local customers and local businesses, to help fuel local economies, because communities thriving across Britain is a good thing for all of us.
We have a simple, straightforward and transparent banking model and make clear on our website how we operate and make money. We offer the products and services people tell us they want, with none of the funny stuff people normally associate with traditional banks.
Our 4.8 million customers, award winning mobile and digital banking, nationwide network of branches and 8,600 Partners mean we are big enough to make a difference, but small enough to be an agile challenger to the entire market.
For further information about TSB Bank plc, please visit our website www.tsb.co.uk.
About The London Triathlon
The London Triathlon took place on 6-7 August 2016, at London Dockland's ExCeL Centre. For further information on The London Triathlon: www.thelondontriathlon.com.